2010 Events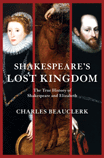 Spring 2010
US Book Tour
Portland, OR
San Fransico, CA
Los Angeles, CA
Memphis, TN
Minneapolis, MN
Washington D.C.
New York, NY
Boston, MA
Check back for dates!



Charles Beauclerk, a first class honors graduate of Oxford University, lectures and writes on 16th and 17th century history. He founded the De Vere Society in 1986 to foster debate and research on the Shakespeare authorship question, and was president of the American-based Shakespeare Oxford Society from 1995-97. He has spoken before some 250 audiences in the U.S. and Canada, including the Smithsonian Institution and the Folger Shakespeare Library. His first book Nell Gwyn: A Biography was published by Macmillan in 2005. His next book, "Shakespeare's Lost Kingdom", will be published by Grove Atlantic in April 2010.
Shakespeare's Lost Kingdom
The True History of Shakespeare and Elizabeth
It is perhaps the greatest story never told: the truth behind the most enduring works of literature in the English language, perhaps in any language. Who was the man behind Hamlet, King Lear, and the sonnets? What passion, what pain, what love inspired words so powerful that "not marble, nor the gilded monuments / Of princes, shall outlive this powerful rhyme"? In Shakespeare's Lost Kingdom, critically acclaimed historian Charles Beauclerk pulls off an enchanting feat, humanizing the bard who for centuries has remained beyond our grasp. 
Beauclerk, the founder of the De Vere Society, former president of the Shake speare Oxford Society, and trustee of the Shakespeare Authorship Trust, has spent more than two decades researching the authorship question. If the plays and  poems of Shakespeare were discovered today, he argues, we would see them for  what they are—shocking political works written by a court insider, someone whose status and anonymity shielded him from repression in an unstable time of  armada and reformation. A satirical writer as trenchant as "Shake-speare" would not have kept his head for long without the monarch's indulgence. But the author's unique status and identity were quickly swept under the rug after his death. The official history—of an uneducated Stratfordian merchant writing in near  obscurity, and of a virginal queen married to her country—dominated for centuries. 

Shakespeare's Lost Kingdom delves deep into the conflicts and personalities of Elizabethan England as well as into the plays themselves to tell the true story of  the "Soul of the Age." From the queen whose sexual escapades threatened to tear the curtain from the royal stage, to the poet whose identity crisis fueled a body of  incomparable works, and the controversy that survived both of them, springing  up again and again down through the centuries, this is a compelling, convincing  history. You'll never look at Shakespeare the same way again.